---
Zydeco Dancing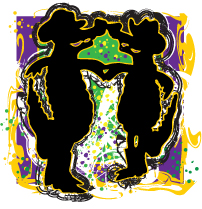 Quick to learn, slow to master, dance from Louisiana Bayou.
Like a good drug, over and over and over. Diggy diggy lie, diggy diggy low. Great music for driving in a car, drinking to, bouncing off each other. Definite formula for rythmic success. Whole institution with dance camps, trips to Louisiana, barbeques. Musicians take the psuedo illiterate pose like blues musicians. Accordian in band is a must. Occasional Waltz ala Cajun style thrown in.


Learning Zydeco Dancing In Portland, Oregon
Various dance studios teach Zydeco dancing, all Zydeco Dances in Portland, Oregon have a lesson at the start of the Zydeco Dance.
Video
Zydeco Dancing At The Waterfront Blues Festival
Video
The Widened Out For Illustration Zydeco Step (works for Cajun and Cruise Ship Ballroom And Anything)
Video
The Basic Step, Birdseye View
Video
The Syncopated Step



No dipping, weaving or bouncing; the line of dance moves as smooth as skaters on fresh ice in this two step.


In the center there are the fancier moves; little windows, sweethearts, Juliette's and more. Every other dance is a waltz. And it is an 8 count dance so there is a lot of opportunity to swing, unless you want to boogie to the Whiskey River Jitterbug.



Learning Cajun Dancing In Portland, Oregon

Let us know about Canjun Dancing Lessons in Portland, Oregon. They're out there somewhere!
Bob Dylan Quote

(Season 1, Episode 28, Theme Time Radio Hour)

"The difference between cajun, creole & zydeco must be hard to pin down if you don't listen to a lot of 'em but here's a couple of handy hints:

Cajun tends to sound more like early country . It's typically a waltz or a two step.

Creole's very similar but the rhythm's tend to be more pronounced and the vocals are a bit more blues influenced.

Zydeco on the other hand sounds more like gospel or r&b with accordian and rub-board washboard.

A lot of people who play one kind won't play with people who play another kind, but me personally, I never understood any kind of border patrol when it comes to music."